Now is one of those unusual times in which I am wearing my glasses while I write the blog, this means I can actually see what I'm writing. I don't know what effect this will have on the quality of the blog, but I'm sure there will be one.
Apologies for not having written a blog for a while, I've accidently been sucked up into a whirlwind of theatre and drama, I have just got back from watching "The Thrill of Love" (which was great) and am looking forward to seeing "A Woman in Mind" next week (and looking for someone to see it with me….I don't want to be a lonely theatre weirdo), so have been neglecting my blog job. As a result of this, there is literally so much to write about in this blog. LITERALLY SO MUCH!
The first thing to discuss is the super exciting name change. After a motion was passed during our EGM, Pres Jo talked to assembly about changing our name to LGBT+a. This is due to how we represent many more identities than the LGB and T, and wanted our name to more accurately portray our representation. This motion then passed!!! WITH UNIVERSAL YES VOTES! Or whatever they're called. We are now the LGBT+a!! I didn't attend the assembly meeting, but my twitter is telling me she did a fantastic job! #queercheerforJo
The second thing is that we recently had our annual "Shipwrecked" event. There was so much party that the river was too full for the boat to set sail, but that didn't stop the party, the party can't be stopped, because we were party central #fun. Both the bars for costumes, amount of mermaids and amount of shirtless men were risen this year. My sources tell me another boat party may occur this year (and maybe this time I can even feel my lifelong dream of dressing as a boat while being on a boat), so stay tuned for more #fun.
It wouldn't be a proper blog if I didn't mention Educate Celebrate in some form (really I feel we deserve to be their best friends by now). The glam, fab, fun Elly Barnes (CEO of the often spoke about Educate Celebrate) gave a talk about the Pride Youth Network. Even though this was the second time I've seen Elly speak, it was the first time I got a sticker from her, granted I had to give it to myself. I essentially stole praise from her. For the Pride Youth Network the Durham University LGBT+ a (almost forgot the +) will be pairing up with educate celebrate and going into several schools and helping them become more LGBT friendly. It was an absolutely great talk, and a brilliant scheme. If you missed the talk you can email Harriet at campaigns@durhamlgbta.org.uk to get a copy of the presentation, or just email her to get involved. The first meeting is Friday 13th (spooooooky)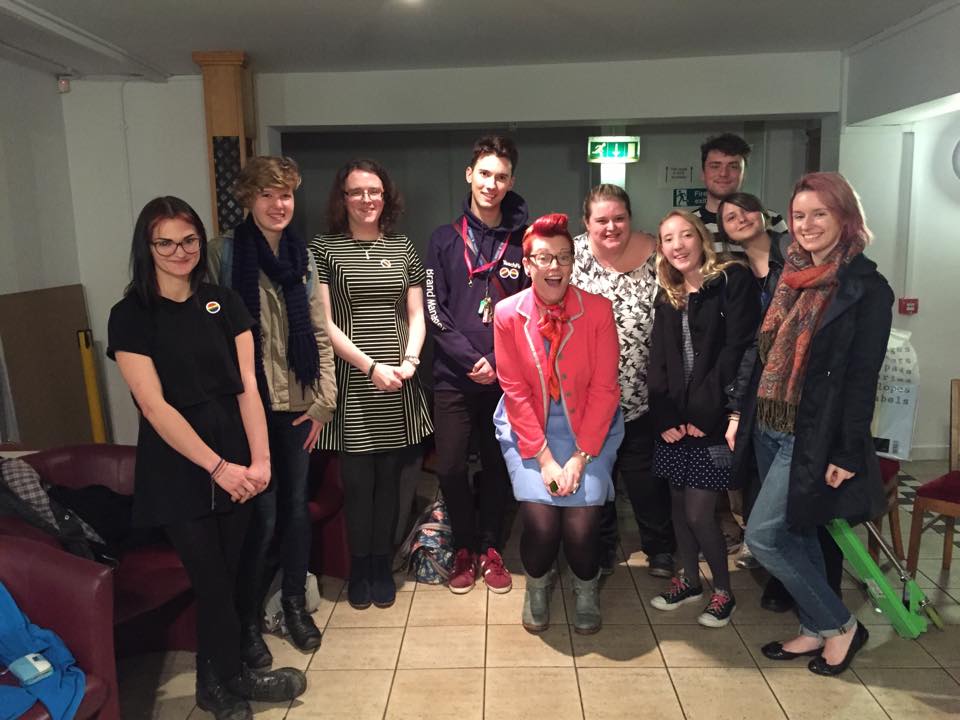 Now that I've spoken about the past we can talk about, THE FUTURE!!!! On Monday the 9th Teach first is having a debate in which we're helping! The event page link is here-https://www.facebook.com/events/1046580582040914/ . The debate is about sexual education and whether it's being done right at school, it will have a large focus on the whether there should be more inclusion of LGBT+ issues within sex education. It's at 6:30, in St Marys college, be there or be square (I only recently found out people say that because if you're not there, you're not around, so you're square. It's clever).
Finally we have a Queens Campus social on Thursday the 12th. I can't be there so you all have to go in my place. Here's the event page https://www.facebook.com/events/1736495403246771/.
Stay Brilliant,
Steven
P.S. My twitter is full of tweets about assembly, and it looks so much more fun than when I sat on it. I want to be friends with all of the colleges twitter people.